New Age Medical Spa body treatments were created with a deep appreciation for the influence that elements have on wellbeing and health. These treatments restore while balancing the body mind, and spirit.
Our highly trained therapist will tailor your body treatment to your skin's needs for a relaxing and pampering experience with ultimate result.
Treatment
Price
Mineral Exfoliation and Diego Dala Palma Wrap
This high performance body wrap is an intensive draining and shaping treatment showing instantly visible results for a more balanced, sculpted body and firmer, smoother skin.Stimulates cellular, increases cellular energy and vitality, reduces cellular stress, reduces the production of free radicals and prevents premature cellular aging.

$350


Hunny Bunny Body Scrub
Say bye-bye to dry and hello to oh-so-soft and smooth skin. This amazing body treatment combines heavenly pure organic vanilla, organic raw sugar and sweet organic honey, and warm organic oil to exfoliate, brighten and deeply hydrate your skin. You will leave feeling refreshed, rejuvenated and ready to show your new skin!
$79

Mineral Exfoliation And Dead Sea Body Wrap
This unique wrap is rich in stimulating minerals that improve circulation and leaves your skin smooth and invigorated. In this treatment excess dry and rough skin cells are gentle exfoliated producing a healthy overall glow you will love.
$350

Aloe Vera Collagen Wrap Formula
This wrap is designed to relax, rejuvenate and restore. Deep cleanse and detoxify your body, leaving your skin soft, smooth and invigorated.
$149

New Age Classic Body Wrap
Our world-famous Classic Body Wrap has been a favourite for over 25 years, due to its incredible instant inch loss results and unique inch loss guarantee. It's powerful inch loss results are thanks to our natural Classic Clay Solution combined with specialist wrapping techniques.

Your Classic Body Wrap treatment comes with at least 6 inches, although average inch loss is 10 -14 inches.
$299 (Single)

$800 (Package of 3)

After Wrap Instructions Must Be Followed For Maximum Results.
Healthy Eating and Exercise should be part of your daily routine. Healthy Nutritional choices leads to better outcomes. Weight loss, Diet Consultation, Lifestyle Management should be part of this treatment.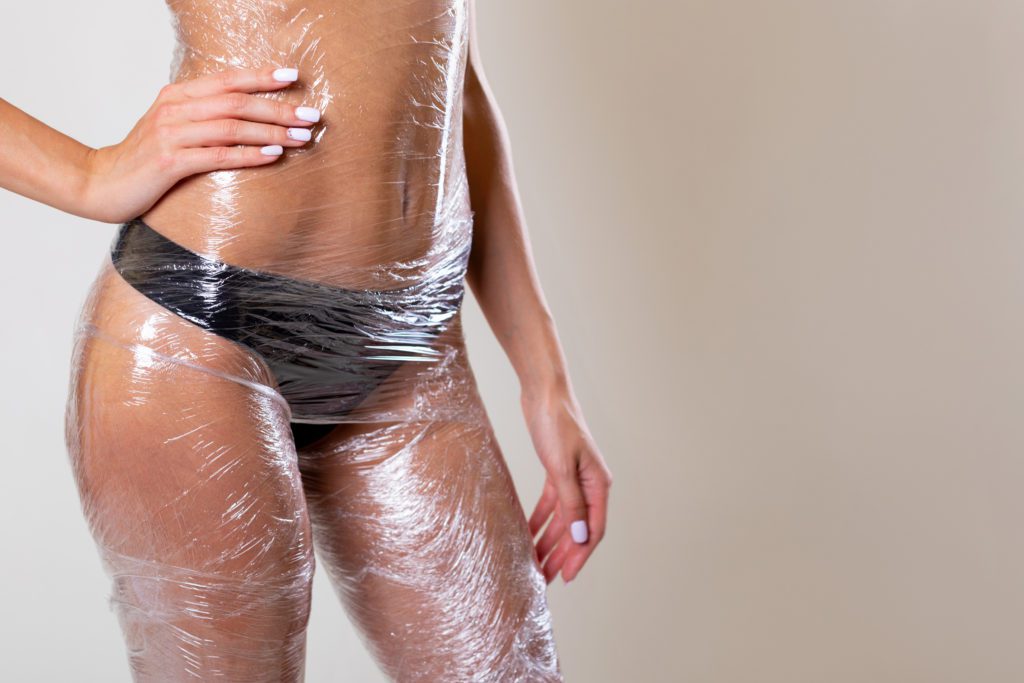 How It Works
The combination of unique natural Classic Clay Solution and specialist body wrapping techniques are what make our Classic Body Wrap so successful. The clay solution draws out toxins whilst the wrapping technique actively compressing the soft fatty tissues. This creates an instant inch loss, firming and body sculpting effect.
After your treatment, the Classic Clay Solution remains in the pores of the skin and your inch loss can continue for 3 – 4 days. We recommend during this time to wash only with tepid water, although this is optional.
This is not a water loss treatment. In fact, we recommend you drink water regularly after your treatment to enhance detoxification, flushing the toxins from your body.
The Process
Our Classic Body Wrap is a full body treatment taking around 2 hours and is always performed by highly trained therapists.
1) Before the treatment, your therapist will measure you at particular points on the body.
2) Bandages which have been pre-soaked in our Classic Clay Solution are then applied using specialist wrapping techniques.
3) You then wear a Vinyl suit to keep warm while you lie back and relax for an hour while the treatment gets to work. You could use this time to get more out of your trip to the salon and indulge in additional treatments such as a facial or manicure.
4) After 60 minutes your bandages are removed, your therapist will re-measure and you'll be amazed by your inch loss result.
To experience the full benefits of our Classic Body Wrap, we recommend a course of 3 – 5 treatments taken at least 7-10 days apart.