Say goodbye to wrinkles and look years younger with BOTOX®!
BOTOX® a purified protein generated by the Clostridium Botulinum Bacterium which blocks the nerve responsible for muscle contraction. BOTOX® is not a permanent procedure, therefore BOTOX® treatment typically lasts up to four or even six  months.   The number of units will depend on the treatment area and will be more accurately assessed through a free consultation with our Medical Practitioner.
LATISSE® is a registered trademark of Allergen Inc.
SOFT LIFT™ is a registered trademark of Allergan Inc.
JUVEDERM® is a registered trademark of Allergan Inc.
BOTOX COSMETIC® is a registered trademark of Allergan Inc.
It is medically proven that wrinkles develop due to a number of environmental factors. Which includes radical damage, cellular changes, collagen breakdown, hormonal changes, and involuntary muscle movement. If you may feel that the moderate to severe frown lines between your brows or the lines on your forehead or crows feet around your eyes make you look tired or a little older then you feel, or have other reasons for being curious about BOTOX Cosmetic®, feel free to ask our registered staff about BOTOX Cosmetic® to find out if it is right for you. Then get ready to say goodbye to wrinkles!
Hyaluronic Acid Fillers (HA Fillers)
These fillers use a substance that is naturally present in the body, hyaluronic acid, to add volume and hydration to the skin. Examples include Juvederm, Restylane, and Belotero.
Restore volume, smooth out wrinkles, and enhance facial features. Injected into the skin to create a more youthful and rejuvenated appearance. Dermal fillers addresses signs of aging, such as fine lines, wrinkles, sagging skin, and loss of facial volume. They can also enhance facial contours, lips, and other areas.
key points about dermal fillers:
Procedure: Dermal filler injections are typically performed in a medical office by a trained healthcare provider. The procedure involves injecting the filler into specific areas of the face using a fine needle or cannula. Before the injections, a numbing cream or local anesthesia might be applied to minimize discomfort.
Results: Dermal fillers provide immediate results, with improvements in volume and wrinkle reduction becoming visible right after the injections. The results can last from several months to over a year, depending on the type of filler used and the individual's metabolism.
Maintenance: Dermal fillers are not permanent, so maintenance sessions are usually required to maintain the desired results. The frequency of maintenance depends on the type of filler and the individual's response to the treatment.
If you're considering dermal filler treatments, it's important to have a consultation with one of our qualified healthcare provider. We can assess your individual needs, discuss your goals, and recommend the most suitable options for you.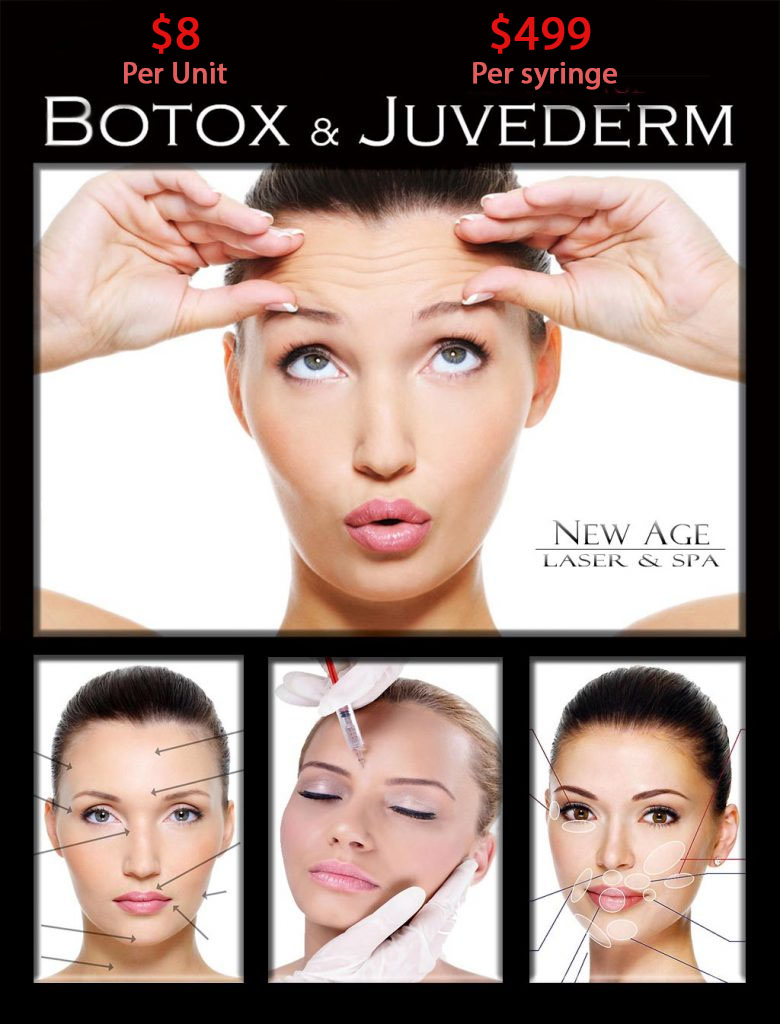 *For New Clients only. One discount price applied per order, 20U minimum. Offer is valid for a limited time only, while supplies lasts. Some restrictions may apply. Offer details and prices may vary by location, call for details. MD consultation fee may be applicable for first time clients if injecting less that 25U of BOTOX®. The final price confirmed during the consultation prior to injection.